Emcis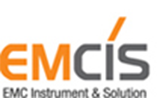 EMCIS established in 1999, is a professional manufacturer heading to TOTAL EMI Solution provider.
From the first day of the company, EMCIS is focusing and concentrating to realizing the real solution in EMI and the related concerns.
Knowing well what difficulties the users are actually and frequently faced in EMI fields, and what the users are really looking for, EMCIS has developed world-first EMI analysis instruments and its related products.
Total EMI solution means not only for the debugging.     It should be extended from analyzing the characteristics of noise sources to eliminating the noises and furthermore to clearing off the potential possibilities of noises in future.
To satisfy the users' needs, EMCIS has lined up Instruments :
EMI Analyzer, Filter Analyzer, Mini Shield Room, and EMI Filters
EMI Software
EMI Solution Consulting
EMI related accessories, probes, detectors, reference sources, etc.
Approved by years field application in domestic and overseas, EMCIS will introduce the most simple and efficient solution as the users' 1st name of EMI solution.